Vegan Pesto Pasta – Dietitian Debbie Dishes
Don't let summer end without making this simple vegan pesto pasta. Other than fresh basil, all you need are a few pantry staples like pasta, pistachios, and olive oil to make this delicious pasta dish.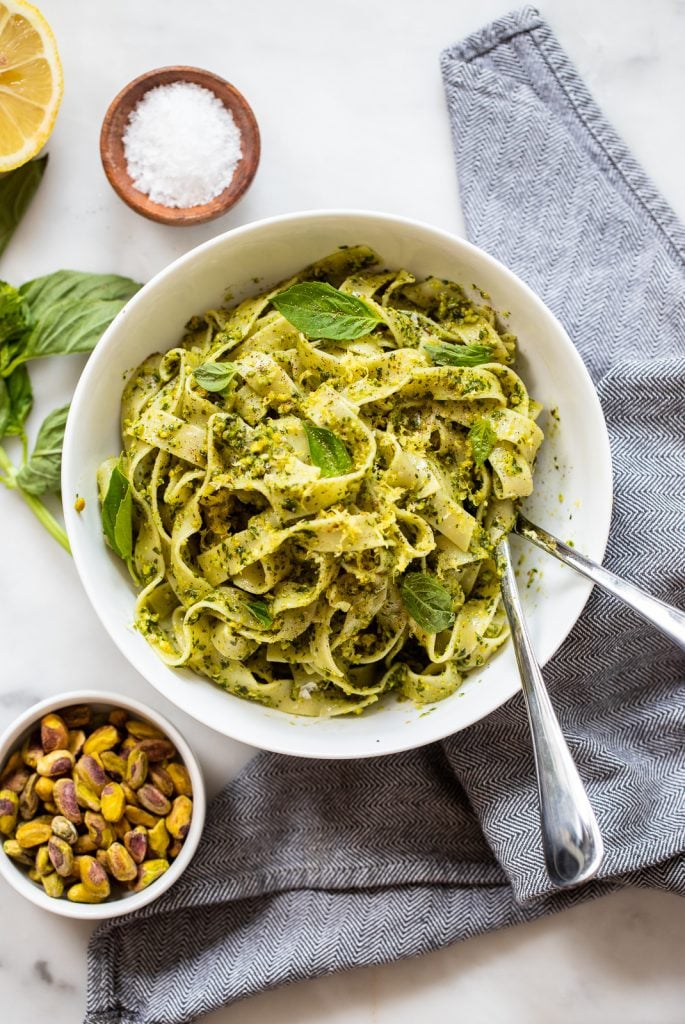 This post contains affiliate links. Purchasing via affiliate links supports Dietitian Debbie Dishes at no additional cost to you.
It has been ages since I posted a pasta recipe here on the blog! This vegan pesto pasta is deceptively simple but so delicious. I need to get my hands on some more fresh basil so that I can make it again. As summer wraps up here in Chicago-land, this felt like the perfect dish for using the last of that basil plant you may have on your porch/yard.
Is Pesto Vegan?
Traditional pesto recipes usually include parmesan cheese so they are not vegan. The pistachio pesto in this recipe is vegan since we left out the cheese. Instead, this pesto gets a lot of flavor from the pistachios and olive oil. Some people add nutritional yeast to their vegan pesto to add that "cheesy" flavor from the parmesan, but I felt this pesto was flavorful enough without it. Plus, I find when you add nutritional yeast to pesto it loses some of the bright green color.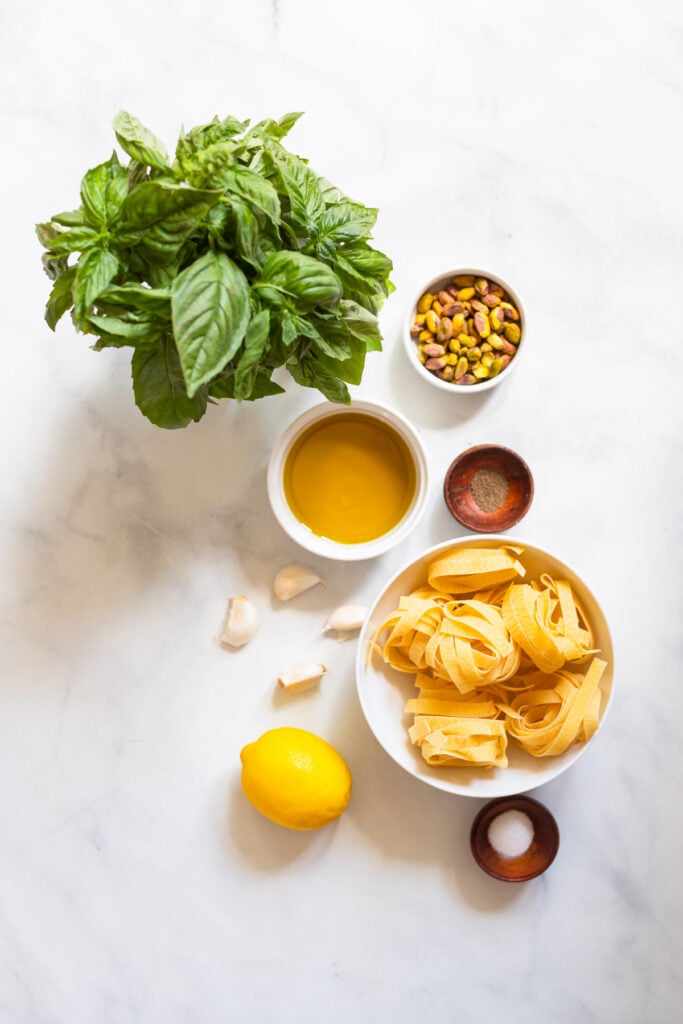 What You'll Need to Make this Recipe
Fettuccine Pasta: You can use whichever pasta shape you prefer, but I really liked fettuccine with this pesto recipe. Bump up the protein by using a bean/legume based pasta. To make it gluten free, use a gluten free pasta.
Fresh Basil: Fresh basil is best for pesto. Look for leaves that haven't wilted.
Pistachios: I love using pistachios in vegan savory recipes like this pesto pasta as well as my easy vegan parmesan. Traditional pesto usually calls for pine nuts which you could use here or you could sub walnuts for the pistachios.
Olive Oil: This is really the best oil to use for pesto – I wouldn't recommend subbing a different oil here.
Lemon: The little bit of fresh lemon juice in this pesto really just adds a hit of brightness and evens out the richness from the olive oil. You'll also add just a little lemon zest at the end when serving for another hint of bright lemon flavor.
Garlic: Fresh garlic cloves are preferred, but you can use 1 teaspoon granulated garlic instead.
Salt and Black Pepper
Step by Step
Add water to a medium to large sized saucepan and generously salt. Bring to a boil over high heat. Add your pasta to the boiling water and cook until al dente based on package directions. I like fettuccini for this recipe but you can use any pasta shape you would like. Save 1/4 cup of the pasta water before draining the pasta through a colander.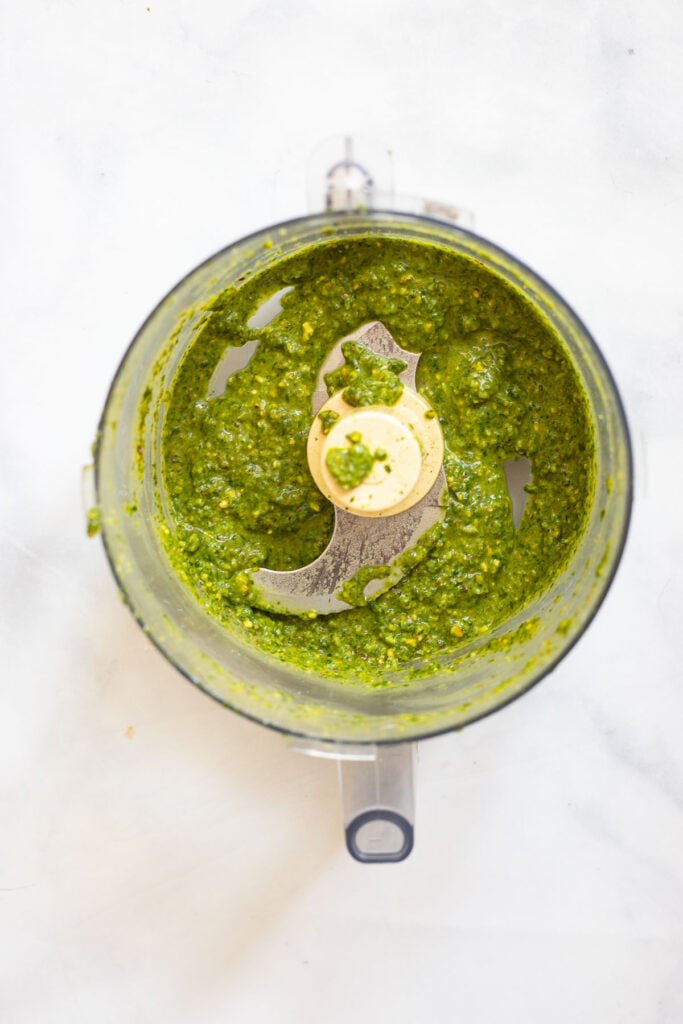 Add all of the pesto to a food processor or blender and puree until smooth. Pause the food processor a few times to scrape the sides with a spatula so that everything gets pureed.
I like to transfer the cooked pasta to a skillet over low head and stir in the pesto. Add a 1-2 tablespoons of reserved pasta water to help the pesto cling to the pasta noodles.
To serve, transfer the cooked pasta to bowls and garnish with salt, pepper, fresh garlic leaves and a little lemon zest or my vegan parmesan.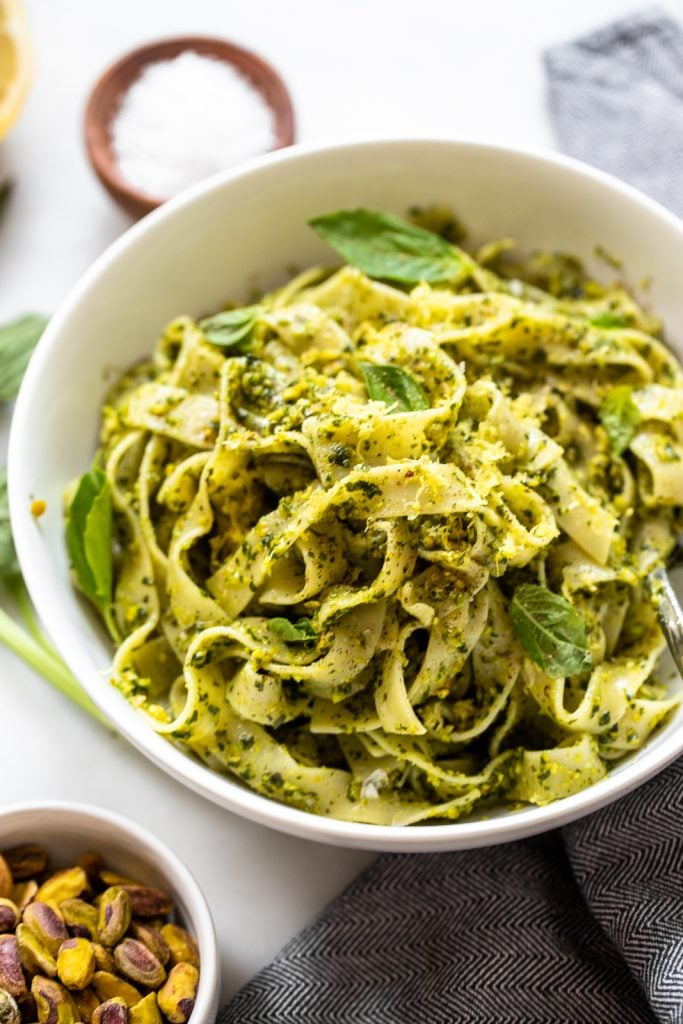 Health Benefits of Pesto
Is pesto good for you? Since it is high in fat, you might have heard that pesto is not healthy. Like everything else when it comes to food and nutrition, balance is key. Pesto is a delicious sauce option that offers many health benefits.
Basil is a good source of antioxidants and anti-inflammatory compounds like many herbs. It is also a rich source of vitamin K which is important for blood clotting but also plays a role in bone health.
Olive oil is a good source of heart healthy monounsaturated fats and vitamins like E and K. It is also high in antioxidants. Olive oil has been extensively researched and associated with many potential health benefits like lower risk of heart disease and cancer.
Pistachios are rich in fiber and protein which makes them a great plant-based snack. They also have heart healthy mono- and polyunsaturated fats which can help prevent heart disease.
Make-Ahead and Storage Tips
Make-Ahead: You can easily make the pesto ahead of time and store it in a covered jar or Tupperware container in the fridge for up to a week. When ready to use, just toss with your cooked pasta.
Store: Leftover pistachio pesto pasta can be stored in an airtight container in the fridge for up to 5 days and can be reheated in the microwave when ready to eat.
Freezer: You can freeze the pesto separately. Just add it to an ice cube tray and freeze overnight. Transfer frozen pesto cubes to a ziplock bag and store in the freezer for up to 6 months. When ready to use, just toss the cubes into a hot pan with cooked pasta.
How to Serve this Pesto Pasta
To round out the meal, pair this vegan pesto pasta with a protein like vegan sausage or toss in some canned chickpeas or white beans. You could also use a bean or legume based pasta to bump up the protein in the final dish and serve with a tossed salad or cooked vegetable.
More Pasta Recipes You'll Love
Featured Links powered by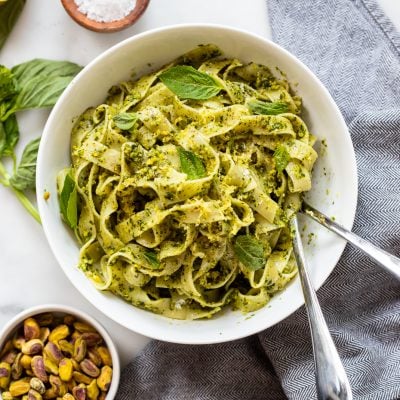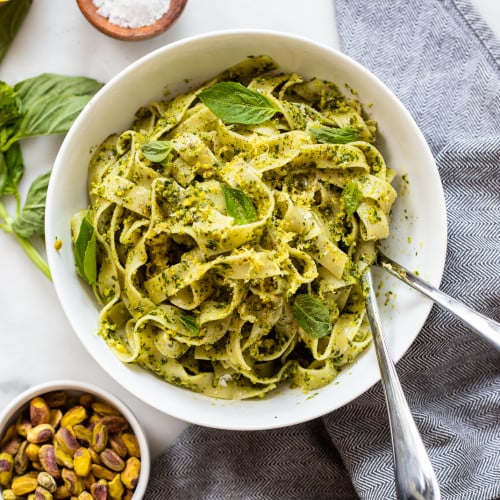 Vegan Pesto Pasta
Created by: Dietitian Debbie
Don't let summer end without making this simple vegan pesto pasta. Other than fresh basil, all you need are a few pantry staples like pasta, pistachios, and olive oil to make this delicious pasta dish.
Prevent your screen from going dark
Ingredients  
8

oz

fettuccine pasta noodles

2

cups

fresh basil leaves

packed

2-4

cloves

garlic

1/3

cup

pistachios

unsalted

1/2

cup

olive oil

2

teaspoons

fresh squeezed lemon juice

1/2

teaspoon

sea salt

1/2

teaspoon

ground black pepper

To serve: lemon zest, black pepper, basil leaves
Instructions
Add water to a large saucepan and salt generously. Bring to a boil and add pasta. Cook according to package directions, reserving ~1/4 cup pasta water for the pesto.

Add all of the pesto ingredients to a food processor (basil, garlic, pistachios, olive oil, lemon juice, salt, and pepper). Pulse until thick sauce forms.

Toss cooked pasta in the pesto. Add about 1-3 tablespoons reserved pasta water as needed to thin the pesto as you toss to coat the noodles. 

To serve, sprinkle with more black pepper and some fresh lemon zest. 
Nutrition
Serving: 1/4 recipe | Calories: 510kcal | Carbohydrates: 46g | Protein: 10g | Fat: 33.5g | Saturated Fat: 4.5g | Polyunsaturated Fat: 29g | Sodium: 290mg | Fiber: 3g | Sugar: 2g
Reader Interactions