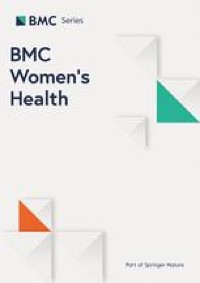 Impact of web-based health education on HPV vaccination uptake among college girl students in Western and Northern China: a follow-up study | BMC Women's Health
Sung H, Ferlay J, Siegel RL, Laversanne M, Soerjomataram I, Jemal A, et al. Global cancer statistics 2020: GLOBOCAN estimates of incidence and mortality worldwide for 36 cancers in 185 countries. CA Cancer J Clin. 2021;71(3):209–49.
Chen WQ, Zheng RS, Baade PD, Zhang SW, Zeng HM, Bray F, et al. Cancer statistics in China, 2015. CA Cancer J Clin. 2016;66(2):115–32.
Crosbie EJ, Einstein MH, Franceschi S, Kitchener HC. Human papillomavirus and cervical cancer. Lancet. 2013;382(9895):889–99.
Walboomers JM, Jacobs MV, Manos MM, Bosch FX, Kummer JA, Shah KV, et al. Human papillomavirus is a necessary cause of invasive cervical cancer worldwide. J Pathol. 1999;189(1):12–9.
Hu SY, Xu XQ, Zhang YY, Liu YW, Yang CX, Wang YY, et al. A nationwide post-marketing survey of knowledge, attitude and practice toward human papillomavirus vaccine in general population: implications for vaccine roll-out in mainland China. Vaccine. 2021;39(1):35–44.
Silverberg MJ, Leyden WA, Lam JO, Gregorich SE, Huchko MJ, Kulasingam S, et al. Effectiveness of catch-up human papillomavirus vaccination on incident cervical neoplasia in a US health-care setting: a population-based case-control study. Lancet Child Adolesc Health. 2018;2(10):707–14.
Wang R, Guo XL, Wisman GBA, Schuuring E, Wang WF, Zeng ZY, et al. Nationwide prevalence of human papillomavirus infection and viral genotype distribution in 37 cities in China. BMC Infect Dis. 2015;15:257.
Yin G, Zhang YL, Chen CY, Ren HY, Guo BT, Zhang M. Have you ever heard of Human Papillomavirus (HPV) vaccine? The awareness of HPV vaccine for college students in China based on meta-analysis. Hum Vaccin Immunother. 2021;17(8):2736–47.
Chido-Amajuoyi OG, Jackson I, Yu R, Shete S. Declining awareness of HPV and HPV vaccine within the general US population. Hum Vaccin Immunother. 2021;17(2):420–7.
You DY, Han LY, Li L, Hu JC, Zimet GD, Alias H, et al. Human papillomavirus (HPV) vaccine uptake and the willingness to receive the HPV vaccination among female college students in China: a multicenter study. Vaccines (Basel). 2020;8(1):31.
World Health Organization. Human papillomavirus (HPV) and cervical cancer. https://www.who.int/en/news-room/fact-sheets/detail/human-papillomavirus-(hpv)-and-cervical-cancer. In.
Chen H, Zhang X, Wang W, Zhang R, Du M, Shan L, et al. Effect of an educational intervention on human papillomavirus (HPV) knowledge and attitudes towards HPV vaccines among healthcare workers (HCWs) in Western China. Hum Vaccin Immunother. 2021;17(2):443–50.
Zhang X, Liu CR, Wang ZZ, Ren ZF, Feng XX, Ma W, et al. Effect of a school-based educational intervention on HPV and HPV vaccine knowledge and willingness to be vaccinated among Chinese adolescents: a multi-center intervention follow-up study. Vaccine. 2020;38(20):3665–70.
Chang IJ, Huang R, He W, Zhang SK, Wang SM, Zhao FH, et al. Effect of an educational intervention on HPV knowledge and vaccine attitudes among urban employed women and female undergraduate students in China: a cross-sectional study. BMC Public Health. 2013;13:916.
Real FJ, Rosen BL, Bishop JM, McDonald S, DeBlasio D, Kreps GL, et al. Usability evaluation of the novel smartphone application, HPV vaccine: same way, same day, among pediatric residents. Acad Pediatr. 2021;21(4):742–9.
Wang Q, Zhang W. The use of Web-based interactive technology to promote HPV vaccine uptake among young females: a randomized controlled trial. BMC Womens Health. 2021;21(1):277.
Gerend MA, Murdock C, Grove K. An intervention for increasing HPV vaccination on a university campus. Vaccine. 2020;38(4):725–9.
Berenson AB, Hirth JM, Chang M, Kuo YF, Richard P, Jones DL. A brief educational intervention can improve nursing students' knowledge of the human papillomavirus vaccine and readiness to counsel. Hum Vacc Immunother. 2021;17(7):1952–60.
Joshi SV, Chaudhari HR, Chaudhari NA. Effect of education on awareness, knowledge, and willingness to be vaccinated in females of Western India. J Cancer Educ. 2020;35(1):61–8.
Xu XQ, Wang YY, Liu YW, Yu YQ, Yang CX, Zhang YY, et al. A nationwide post-marketing survey of knowledge, attitudes and recommendations towards human papillomavirus vaccines among healthcare providers in China. Prev Med. 2021;146:106484.
Xu YH, Bi WS, Liu T, Jiang YX, Wang Q, Fan RR. Factors associated with intention of human papillomavirus vaccination among Chinese college students: implications for health promotion. Hum Vaccin Immunother. 2021:1–7.
DiClemente RJ, Murray CC, Graham T, Still J. Overcoming barriers to HPV vaccination: a randomized clinical trial of a culturally-tailored, media intervention among African American girls. Hum Vaccin Immunother. 2015;11(12):2883–94.
Wong LP, Han LY, Li H, Zhao JS, Zhao QJ, Zimet GD. Current issues facing the introduction of human papillomavirus vaccine in China and future prospects. Hum Vaccin Immunother. 2019;15(7–8):1533–40.
Liu CR, Liang H, Zhang X, Pu C, Li Q, Li QL, et al. Effect of an educational intervention on HPV knowledge and attitudes towards HPV and its vaccines among junior middle school students in Chengdu, China. BMC Public Health. 2019(1);19:488.
Gao XH, Wu Y, Zhang Y, Zhang NX, Tang J, Qiu J, et al. Effectiveness of school-based education on HIV/AIDS knowledge, attitude, and behavior among secondary school students in Wuhan, China. PLoS One. 2012;7(9):e44881.
Liu YN, Di N, Tao X. Knowledge, practice and attitude towards HPV vaccination among college students in Beijing, China. Hum Vaccin Immunother. 2020;16(1):116–23.
Chiang VC, Wong HT, Yeung PC, Choi YK, Fok MS, Mak OI, et al. Attitude, acceptability and knowledge of HPV vaccination among local university students in Hong Kong. Int J Environ Res Public Health. 2016;13(5):486.
Szilagyi PG, Albertin CS, Gurfinkel D, Saville AW, Vangala S, Rice JD, et al. Prevalence and characteristics of HPV vaccine hesitancy among parents of adolescents across the US. Vaccine. 2020;38(38):6027–37.
Sitaresmi MN, Rozanti NM, Simangunsong LB, Wahab A. Improvement of Parent's awareness, knowledge, perception, and acceptability of human papillomavirus vaccination after a structured-educational intervention. BMC Public Health. 2020;20(1):1836.
Cocchio S, Bertoncello C, Baldovin T, Fonzo M, Bennici SE, Buja A, et al. Awareness of HPV and drivers of HPV vaccine uptake among university students: a quantitative, cross-sectional study. Health Soc Care Community. 2020;28(5):1514–24.
Siu JY. Barriers to receiving human papillomavirus vaccination among female students in a university in Hong Kong. Cult Health Sex. 2013;15(9):1071–84.
Qiao YL, Wu T, Li RC, Hu YM, Wei LH, Li CG, et al. Efficacy, safety, and immunogenicity of an escherichia coli-produced bivalent human papillomavirus vaccine: an interim analysis of a randomized clinical trial. J Natl Cancer Inst. 2020;112(2):145–53.
Harder T, Wichmann O, Klug SJ, van der Sande MAB, Wiese-Posselt M. Efficacy, effectiveness and safety of vaccination against human papillomavirus in males: a systematic review. BMC Med. 2018;16(1):110.
Human papillomavirus vaccines. WHO position paper, May 2017–Recommendations. Vaccine. 2017;35(43):5753–5.
Martínez-Lavín M, Amezcua-Guerra L. Serious adverse events after HPV vaccination: a critical review of randomized trials and post-marketing case series. Clin Rheumatol. 2017;36(10):2169–78.