Chicken Puttanesca | Diethood
A fantastic meal is less than an hour away, thanks to this bold recipe for Chicken Puttanesca. Tender, juicy chicken thighs are cooked in a vibrant tomato-based sauce with plenty of garlic, olives, capers, and more.
Tangy, Saucy Chicken with Olives and Capers!
With its mouthwatering blend of tomatoes, garlic, capers, and more, puttanesca sauce is a quick but delicious dinner recipe. And, while puttanesca sauce is most famously served over pasta, it's good on almost anything, including chicken. That's what this recipe is all about.
You can serve this saucy chicken dish with your favorite side dish; it's fantastic over pasta, of course, but pairs equally well with rice, potatoes, or just some crusty bread. If you need a warm, simple dinner idea that will stick to your ribs and wake up your tastebuds, this recipe is for you!
What Does Puttanesca Mean in Italian?
Puttanesca has been famously translated to mean, "in the style of a prostitute," since the word "puttana" in Italian means, well, a prostitute! 😬 But, this slangy term can also be interpreted a different way: trash, garbage, etc.
The likely explanation for the odd name choice is probably that making this pungent sauce is easy, quick, and un-fancy – just throwing some "garbage", or some scraps together, to make it a meal.
What Does Puttanesca Taste Like?
Fans of puttanesca describe it as a truly flavorful sauce with a lot of contrast and depth. The salty, umami taste of the anchovies is one element, while juicy tomato adds a contrasting element. Olives add richness, while briny capers cut through that richness. Plenty of garlic brings it all together.
The Ingredients
Since this recipe is all about intense, bold flavor, it contains a trio of super-intense ingredients: anchovies, olives, and capers. Here's the full list:
Chicken:  Bone-in, skin-on chicken thighs are reliably moist and tender.
Salt and Pepper
Oil: A neutral oil, like vegetable oil, is perfect.
Onion: Thinly slice one small yellow onion.
Garlic: Fresh garlic, minced or pressed.
Anchovies: Chopped.
Red Pepper Flakes: These give the sauce a little kick. Omit them if you don't want that touch of spiciness. 
Tomato Paste: Make sure to use paste, not sauce. Paste is thicker and has a stronger taste.
Crushed Tomatoes: Boxed or canned. Strained tomatoes would also work. 
Olives: Green olives, pitted and cut in half.
Capers: Capers are the buds of a flowering bush native to the Mediterranean. They are brined, packed into jars, and are usually sold near the olives and pickles.
Parsley: Chopped fresh parsley is a fresh, herbal garnish.
Are You Supposed to Rinse Anchovies?
Sometimes, yes. Anchovies come in a few different styles, including those packed in oil and those packed in salt. The ones in oil are ready to go. Anchovies packed in salt are usually a bit better quality, but you do have to clean and filet them yourself, and rinse off the excess salt.
Let's Make Chicken Puttanesca!
Chicken puttanesca is an easy skillet meal, made with hearty bone-in chicken thighs. The whole cooking process only takes about 40-ish minutes!
Brown the Chicken. To get started, sprinkle the chicken thighs all over with salt and pepper. Next, heat up the oil in a large, deep-sided skillet over medium-high heat. When the oil is hot, place the chicken thighs, skin-side down, in the pan. Let them cook for about 5 minutes to brown. Then flip them and cook them for 5 minutes or so on the other side.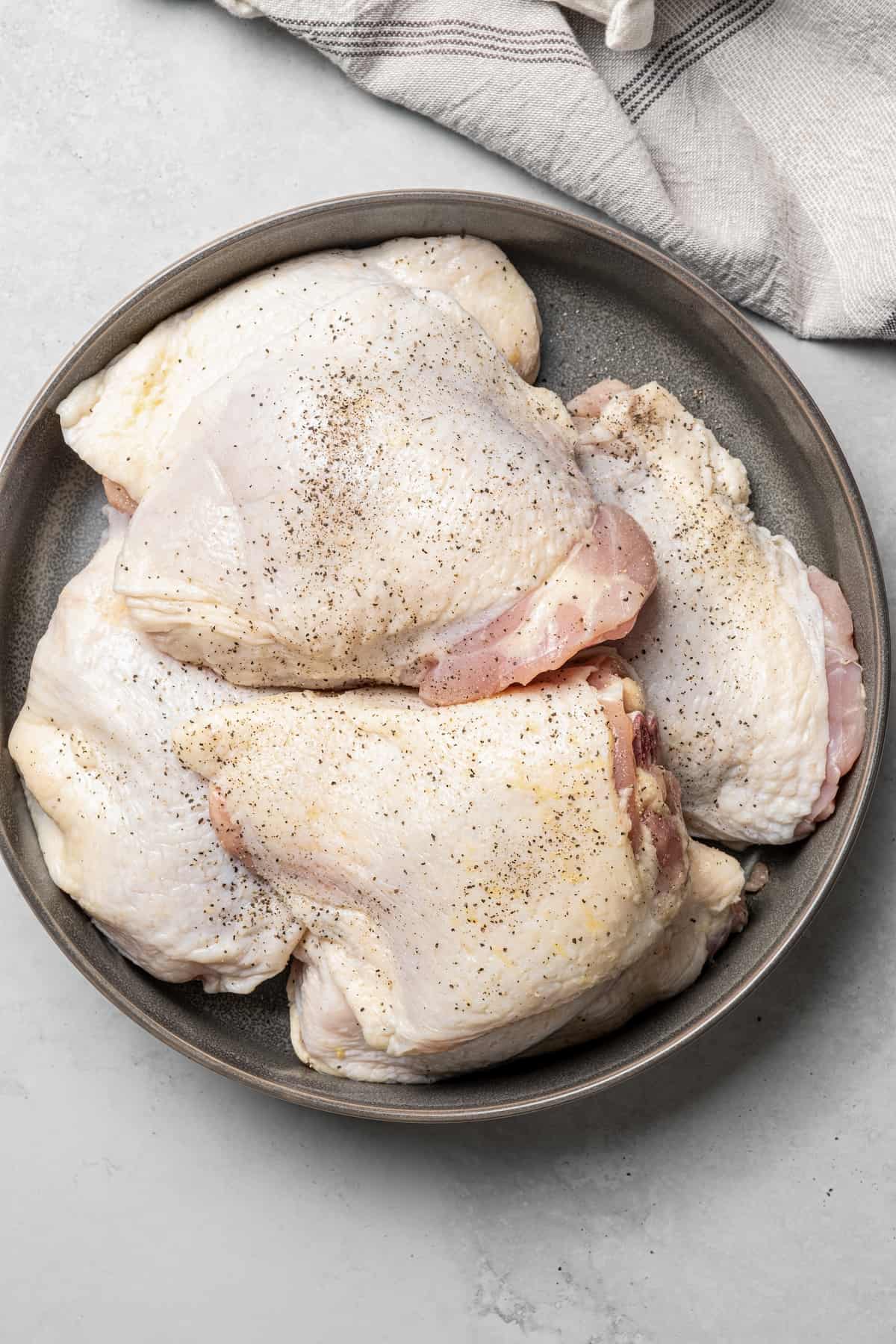 Cook the Onions, Garlic, and Anchovies. Take the browned chicken thighs out of the skillet, and put them on a clean plate while you work on the sauce. Add the sliced onions to the skillet, and cook them for 2 or 3 minutes, until they have softened. Stir in the garlic, and cook that for about 10 seconds. Then add the anchovies and red pepper flakes, and cook for a couple more minutes, stirring occasionally. 
Add the Tomato Paste and Crushed Tomatoes. Stir the tomato paste into the onion mixture until it's dissolved. Then, stir in the crushed tomatoes, using a wooden spoon to scrape up any browned bits from the bottom of the skillet.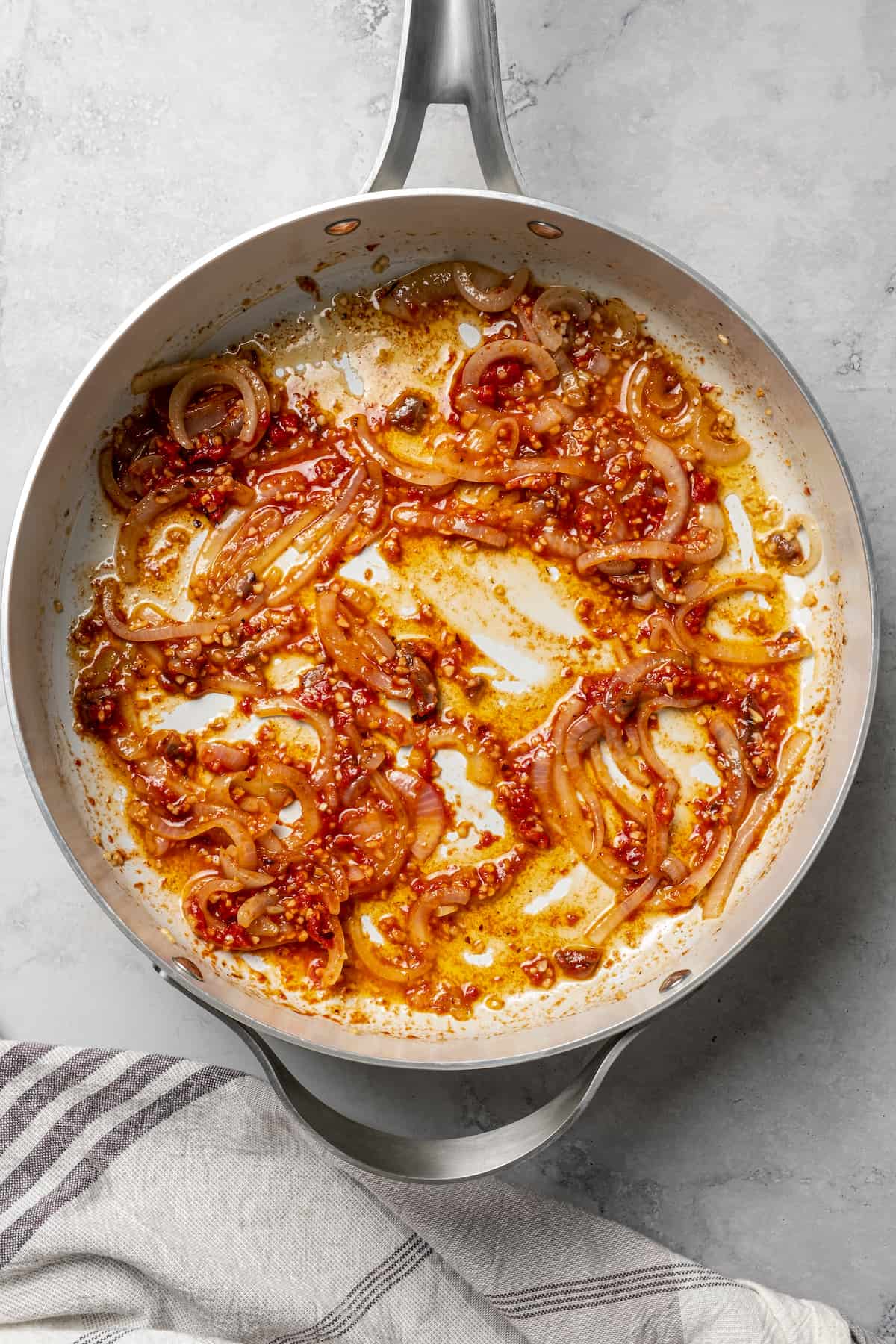 Add the Olives, Capers, and Chicken. Stir the olives and capers into the sauce. Return the chicken thighs back to the skillet, and simmer them for 15 to 20 minutes, or until the chicken is cooked through. (If the sauce begins to look dry at any point, add a couple of tablespoons of chicken broth or water.)
Finish the Dish. Once the chicken is fully cooked, take the skillet off of the heat. Garnish the chicken puttanesca with chopped parsley, and serve. 
Tips for Perfect Chicken
For the best chicken thigh texture and taste, it's helpful to have a few basic tips in mind. These helpful hints will ensure that you get juicy, tender chicken thighs every time.
Don't Undercook: With boneless, skinless breasts, it's important not to overcook the meat, but with chicken thighs? Honestly, undercooking is an all-too-common disaster. Use a meat thermometer to make sure the chicken thighs reach at least 165°F for food safety. 175°F will give you a more tender, juicy texture.
Don't Overcook: That said, you can also overdo it with chicken thighs. That's less likely, but it still helps to set a kitchen timer so they don't simmer away until they dry out.
Crispy Skin: Slide the cooked chicken thighs under the broiler for a minute or two, if you want to crisp the skin a bit more.
Skinless: You can also remove the skin from the chicken after browning the thighs, if you don't enjoy skin-on chicken cooked with sauce.
What Does Puttanesca Go Well  With?
Side dish suggestions, anyone? Here's the skinny on what to serve with your zesty chicken puttanesca:
Salad: Salad and chicken belong together, and a simple garden salad is great with chicken puttanesca. For something a little different, how about this crisp, green, Cabbage Cucumber Salad?
Bread: Garlic bread is awesome, but if there's time, I highly recommend trying this Whole Wheat Focaccia Bread. It's just right for sopping up that incredible sauce.
Soup: Serving a soup starter is a cozy way to introduce this meal. Any light, veggie-centric option would work, but this Cream of Zucchini Soup is an especially comforting option that's also easy to make.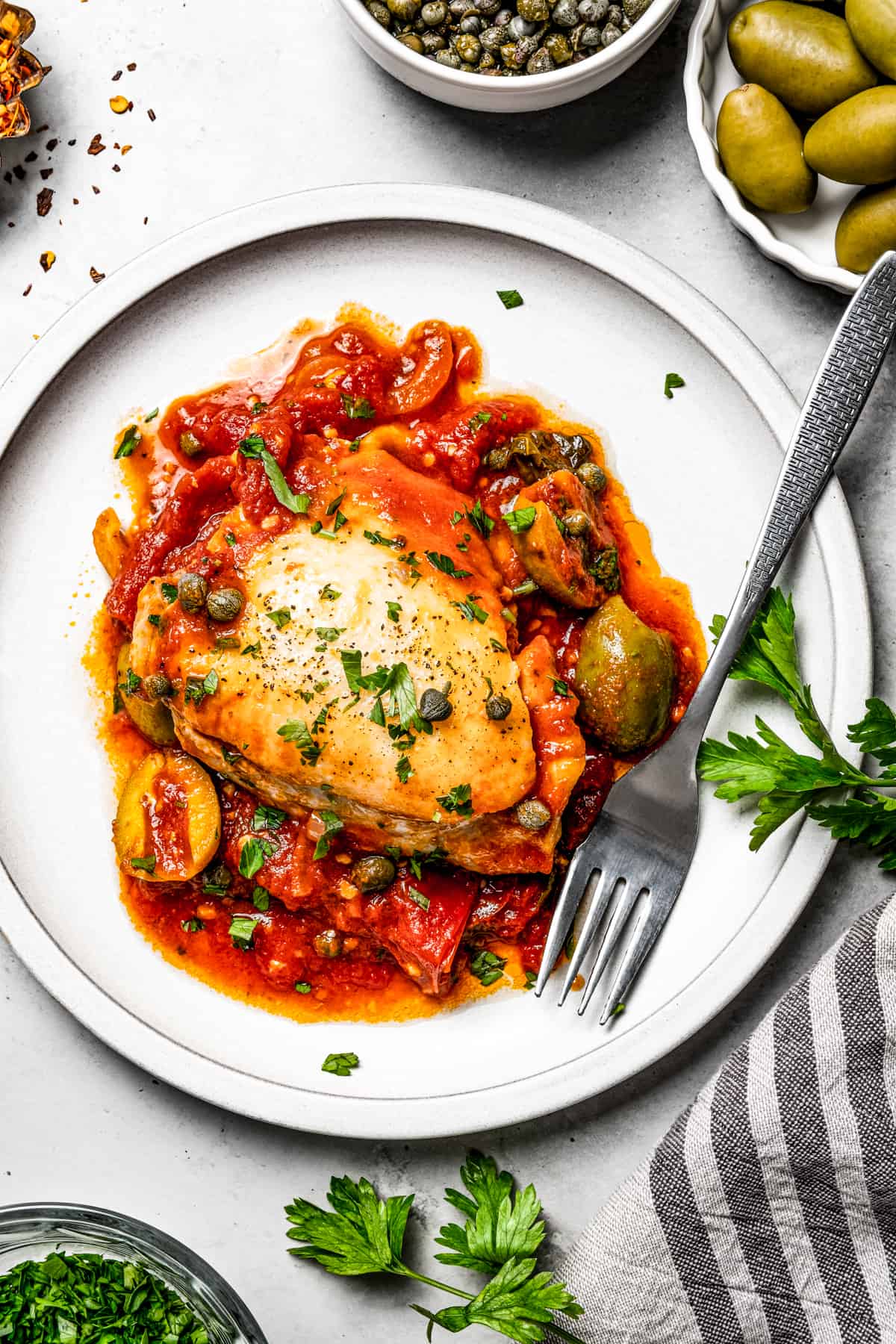 How to Store and Reheat the Leftovers
Leftover chicken and sauce can be stored in an airtight container and kept in your refrigerator for 3 to 4 days. 
Reheat leftovers in a covered skillet over medium-low heat, until piping hot. Don't overcook or the chicken will be tough.
Can I Freeze This Dish?
Yes, you can freeze leftover chicken puttanesca for up to three months.
Just cool down the chicken and sauce, and pack into freezer bags or airtight containers. Store in the freezer for 3 months.
Thaw overnight in the fridge before reheating.
ENJOY!
Season the chicken thighs all over with salt and pepper.

Heat the oil in a deep-sided large skillet set over medium-high heat.

Add the chicken thighs, skin-side down, to the heated oil and cook for about 5 minutes; flip and cook for 4 to 5 more minutes, or until just browned.

Remove chicken thighs from skillet and transfer to a plate; set aside.

Add the sliced onions to the skillet and cook for 2 to 3 minutes, or until softened. Add more oil, if needed.

Stir in the garlic and cook for 10 seconds.

Add anchovies and pepper flakes, and continue to cook for 2 more minutes, stirring occasionally.

Stir in the tomato paste until dissolved.

Then, stir in the crushed tomatoes, scraping up any browned bits from the bottom of the skillet.

Mix in the olives and capers.

Return chicken thighs back to the skillet.

Continue to simmer for about 15 to 20 minutes, or until the chicken is cooked through.

If the sauce begins to look dry at any point, add a couple tablespoons of chicken broth or water.

Remove from heat.

Garnish with chopped parsley.

Serve chicken thighs with the puttanesca sauce.
Chicken Thighs vs Chicken Breasts: I advise to use bone-in chicken thighs in this recipe, but if you decide to use boneless chicken breasts, take into account that those will need less time to cook through. Use an Instant Read Meat Thermometer to check for doneness. Chicken is cooked through when internal temperature registers at 165˚F. 
Crispy Chicken: To crisp up the skin, you can place the pan with the thoroughly cooked chicken under the broiler for a few minutes, or until skin is browned and crispy.
Anchovies: If these little slender fish don't make you want to jump at this recipe, you can always just leave them out. They do add a salty umami flavor to the dish, and play a traditional role in the classic puttanesca sauce. A good substitute for anchovies is sardines.
Calories: 435 kcal | Carbohydrates: 21 g | Protein: 29 g | Fat: 28 g | Saturated Fat: 7 g | Polyunsaturated Fat: 6 g | Monounsaturated Fat: 12 g | Trans Fat: 0.1 g | Cholesterol: 145 mg | Sodium: 821 mg | Potassium: 1044 mg | Fiber: 5 g | Sugar: 11 g | Vitamin A: 811 IU | Vitamin C: 23 mg | Calcium: 112 mg | Iron: 4 mg | Net Carbs: 16 g
Nutritional info is an estimate and provided as courtesy. Values may vary according to the ingredients and tools used. Please use your preferred nutritional calculator for more detailed info.
More Hearty Chicken Thigh Recipes